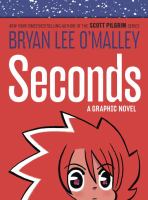 Seconds
Graphic Novel
Ballantine
2014
321
Bryan Lee O'Malley is best-known for his Scott Pilgrim series, which inspired the recent cult hit film Scott Pilgrim vs The World. Scott Pilgrim is the genre-bending story of a slacker young twenty-something. O'Malley has grown up since the publication of the final volume of Scott Pilgrim, and so have his readers. Seconds, his latest work, is the story of Katie, a 29-year-old chef. Unlike Scott Pilgrim, she's ambitious and focused. The restaurant she co-founded is doing well, but Katie's looking to branch out on her own.
Then there's an accident at the restaurant, and Katie meets the house spirit who lives in Katie's apartment above the restaurant. The spirit gives Katie a mushroom she can eat to undo the mistake that caused the accident. It works! Katie discovers where the mushrooms grow and ends up using them to undo lots of things. In this way, she can try out different possibilities.
Seconds really resonated with me, a late-twenty-something. Katie's indecision and confusion about her future are perfectly rendered here. The storyline may be ultimately predictable (I'm sure it won't surprise anyone to learn that changing the past turns out to have consequences Katie didn't predict!), but it doesn't matter. It's still cathartic to see Katie's struggles and growth. Katie herself is a great character–stubborn, ambitious, and funny. The supporting characters are great too, especially Katie's shy friend Hazel who tells her about the role of house spirits in her culture, and Lis, the increasingly-grumpy house spirit.
O'Malley's artwork is also wonderful. His cute manga-influenced style from Scott Pilgrim is still present, but here he gets to use color and it really shines. He uses the graphic novel format to convey emotions and scenarios with a single glance or crowded restaurant.
I'd recommend Seconds to fans of Scott Pilgrim, but also to readers looking for a funny and compassionate take on life as a millennial.